Children must first learn the function of money before learning to spend and save money. Children can understand the simple concept of how money works when they are as young as 3. More often than not, a child sees a mother pays money and get something in return at a shop.
Saving With Kids eBook Series $19.00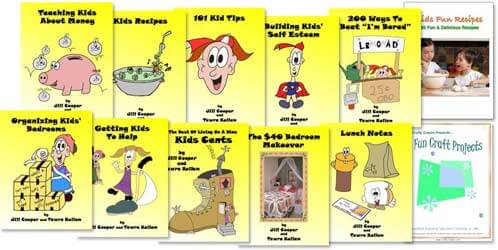 This understanding can be enhanced by repeated incidents and role play at home. Try showing your child using some money to get something in return.
When a child can understand this simple concept, you may educate him / her about ways to use money – which is to spend or save. This is the time to instill right values and behavior. You may educate a child about 'How to Spend Wisely'. More often than not, a child will adopt the same spending habit as a parent if they are taught from young.
Children may thought there is a money dispensal machine whereby their parents simply key in few numbers and they can get as much money as they want!
Explain to your child where does money come from. Tell them daddy and mummy has to work to earn a certain amount of money each month. This portion of money needed to be shared for entire household and careful money management is needed before we run out of money.
Some reasons on educating why a child should save:
1. For daily lives (e.g. food and clothing)
2. For health care
3. For education
Educate your child that these are priorities which comes before toys and leisure.
In regards to how to save - you may want to start   off with a coin box or piggy bank at home. Occasionally offer small amount for your child to drop into the coin box. Eventually, when the coin box is full, open a joint bank account with your child.
To reward you child for the good saving habit, you may get her balloon! This in turn would encourage her to continue saving money.